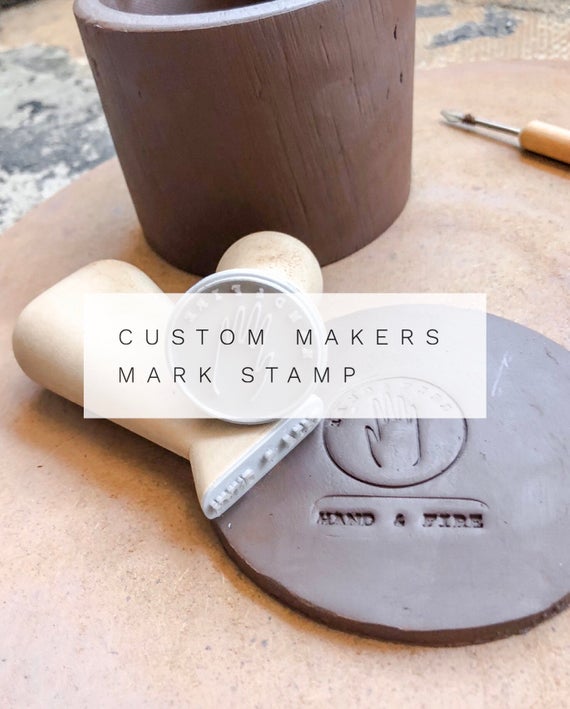 Custom Pottery Stamps
Makers mark pottery stamps

Please pick the size you would like your makers mark stamp to be*. If you want a custom shape and size, please email handandfirepotterystamps@gmail.com for a quote.

*Initial assessment of your logo will slightly vary the size of your stamp once finished—we want to make sure we are using materials wisely and efficiently to best make your stamp.
———————
Once you purchase your stamp, please send a black and white copy of your logo to our email handandfirepotterystamps@gmail.com in a .jpeg or .pdf file with the subject line as your order name (this is important!).

For example:
Subject: SAGE CORTEZ HAND + FIRE STAMP

Line width can be no smaller/thinner than .5 mm. This is to ensure all text/imagery is legible and strong enough to be used many times.

Not all designs are possible to print at these small sizes. Although, we will assess your imagery and alter/redact where possible, but we will not completely redraw an image.

If you are worried about your logo being difficult to print, please send us an email with it included and we can give you advice as to how to make it possible.

ABOUT THE STAMP:

The stamp portion of this item is made of 3D printed PLA (corn or sugar based biodegradable plastic) , and the handle made of woodfil PLA (biodegradable wood additive plastic).

Each stamp is made to order by my partner Joshua Hughes.
.

Please allow 2-3 weeks processing time before your stamp is shipped.